Feature

DON – A Magazine in 24 Hours

June 26, 2012

Starting at 9am on June 9 we began the task of making a magazine in twenty four hours. The brief of the project was to explore an area of Sheffield called the Upper Don Valley. Finally, we now have the finished product back from print.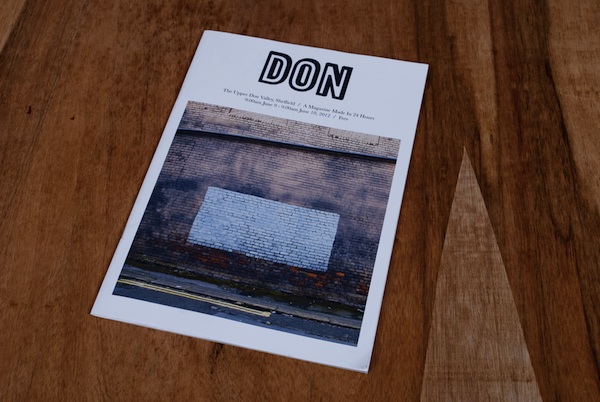 The Upper Don isn't denoted on any official maps. Its borders are fuzzy. The distance it extends from the river bank, the valley named after the river Don, is undefined. Where it ends and begins is unclear. Yet, for those that know it, the Upper Don is its own distinct area with many layers of experience and history. A mix of industry and residential, it has been in constant flux for hundreds of years.
We worked with some really great people on this project, and looking at the finished product a few weeks later, I think it is fair to say that they did an excellent job. Amongst the contents are photo essays on typography, advertising and parking spots, interviews with a publican and his patrons and with a women searching out her Jewish ancestry, as well as histories of buildings and accounts of walks through the area, all written on the day.
The project was in collaboration with plastiCities, which is part of The University Of Sheffield. Contributers included: Hannah Boast, Dan Byrne, Martin Elms, Rachel Genn, Kathryn Hall, India Hobson, Amanda Crawley Jackson, Darren Johnson, Jack Mann, Alys Mordecai, Jessica Rangel O'Brien, Jenny Parkinson, Gareth Parry, Katya Porohina and Ivan Rabodzeenko, Anastasia Porteous, Chris Savage, Thomas Shore, Rachel Smith, James Wraith, Emma Wray, Stefan Willhoit, Matt Voice.
We should also shout out SKINN and CADS who provided the space, tables and chairs.
Hopefully we will be getting a box to offer on our webstore. In the meantime, you should be able to find copies somewhere in Sheffield!