Music

VEX at Portland Works

June 9, 2011

This Saturday will see the launch of VEX, a night of explorations in live electronic music and visual delights, put together by Hand Of (handof.tumblr.com), a recently established Sheffield-based promoter of exciting yet accessible art events.
Promising a set of beats created using live coding, a sonically-controlled visual show courtesy of audiovisual composer Louise Harris, a lightbulb performance to a composition of samplings and percussion from Cambridge's Joe Snape, whose work has attracted such attention that he'll be performing with Nico Muhly and Sufjan Stevens next year, plus throwing a nice bit of minimalist drone in for good measure, all this multimedia mingling sounds intriguing enough in itself. But the night is all the more unique for its venue – the Portland Works on Randall Lane.
Tucked away behind Bramall Lane football ground, the Portland Works is a late nineteenth century purpose-built cutlery works, and birthplace of stainless steel cutlery. Its always exciting to see that 'Made in Sheffield' brand on trips abroad, engraved into your teaspoon as you stir your morning coffee in a canalside cafe in Paris, or on your knife and fork carving up a pizza in a Hamburg bar (probably also applicable to Italy, though I can't say from experience), and so a place that continues manufacturing using the tools, original machinery and skills that made the city internationally known, is a place worth holding on to.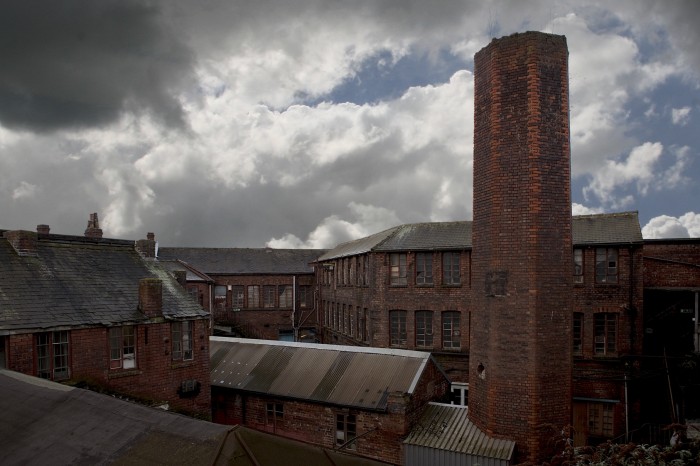 Home to a diverse community of over thirty craftsmen and women, from knife makers and tool forgers, to silver platers, artists and, erm, chastity belt makers, plus with bands now using the space to practice at becoming the next Arctic Monkeys, the Works are as full of racket and flying sparks as ever. Its a Grade II listed building, and while this means the exterior is protected, those who inhabit its workshops and give the place its character aren't, and when the landlord submitted a planning application to turn the place into yet more city living flats a couple of years ago, they came under threat.
A campaign was started by the Portland Works Committee to save the building and the tenants' livelihoods, for most of whom relocation would be too pricey to be a viable option. The application was withdrawn last month and now the committee are focussed on the future – looking to raise £750,000 through a community share scheme to buy the place out and carry out necessary renovations. The aim is to open it up to support new businesses, transfer skills, and allow the public to see that these old trades continue to have relevance. It's a worthwhile investment to see the city's heritage in action, rather than resigned to a few photos and relics in a glass cabinet in some dusty, rarely-frequented museum somewhere irrelevant.
With Sensoria festival's Steel City Pulse event, which last month turned the Portland Works courtyard into a drum, and now VEX, the Portland Works bunch are clearly open to something a bit different and to keeping the place alive. On the night you'll be able to stray from the covered performance area and take a wander around the Works to see what its all about for yourself.
VEX is Saturday 11th June, 7pm – around 9pm. Free entry, cheap bar.
More info here (facebook)
Portland Works share launch date is 16th June – anyone can buy shares, with a minimum holding of £100, and in return may vote in an annual meeting.